Wij zoeken een bedrijfsarts
Op dit moment zoeken wij een zelfstandige bedrijfsarts of een bedrijfsarts in opleiding voor verschillende regio's in Nederland, die minimaal één dagdeel per week beschikbaar is om spreekuren voor verschillende werkgevers te verzorgen.
Wellicht kent u een bedrijfsarts (i.o.), die interesse en tijd beschikbaar heeft. Mogelijk bevindt deze kandidaat zich tussen uw relaties, denk aan een oud-studiegenoot of een (voormalig) collega. Daarom willen wij u vragen dit bericht te delen.
Expereans BV is een arbodienst die samenwerkt met verschillende casemanagementbureaus en grote verzekeraars en ook voor hen spreekuren door heel Nederland verzorgt. Meer informatie over onze dienstverlening is terug te vinden op www.expereans.nl.
Heeft u interesse en tijd beschikbaar om voor onze klanten spreekuren te verzorgen? Dan nodigen wij u graag uit contact met ons op nemen. U kunt ons bereiken op telefoonnummer 0183-699400. Uiteraard kunt u ons ook via e-mail bereiken op t.hossain@expereans.nl.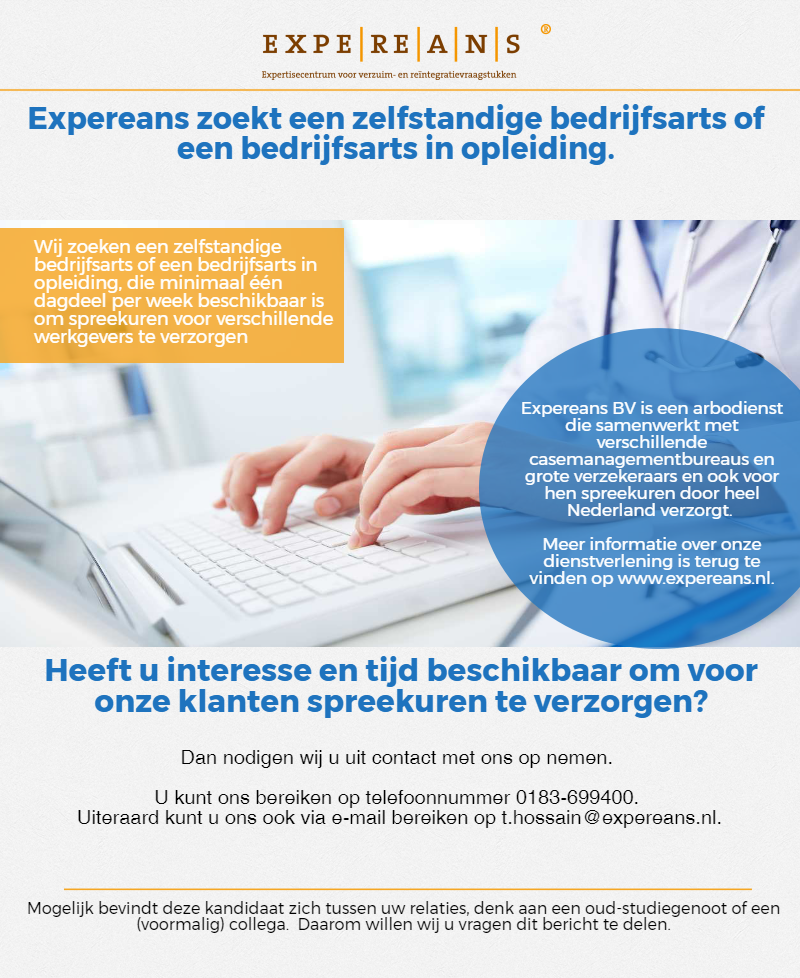 Papland 9B - 4206 CK Gorinchem - KVK 11060965 - 0183-699400 - info@expereans.nl