Een ideale oplossing voor bedrijven die bij de aanpak van hun verzuimbeleid een actieve ondersteuning verlangen.
Verzuimbalie Excellent omvat, naast aansluiting bij een CDA en ISO-gecertificeerde arbodienst, de actieve inzet van de casemanager en de bedrijfsarts tijdens het volledige verzuimtraject.
Verzuimbalie Excellent biedt u Poortwachtergarantie. Ten behoeve van de Poortwachtergarantie voert het Verzuim Interventie Team (bestaande uit bedrijfsarts, arbeidsdeskundige en casemanager) vanaf de 13e week van het verzuim, periodiek een check uit op het re-integratiedossier. Tevens verricht het VIT® een arbeidsdeskundige check op het re-integratiedossier voorafgaand aan de eerstejaarsevaluatie.
Via de casemanager heeft u toegang tot diverse deskundigen zoals de arbeidsdeskundige, de veiligheidskundige, maar ook de psycholoog, de bedrijfsmaatschappelijk werker of de mediator. Al onze deskundigen zijn gekwalificeerd en hebben een rijke ervaring in arbodienstverlening in verschillende sectoren. Zij zijn beschikbaar op basis van offerte of nacalculatie.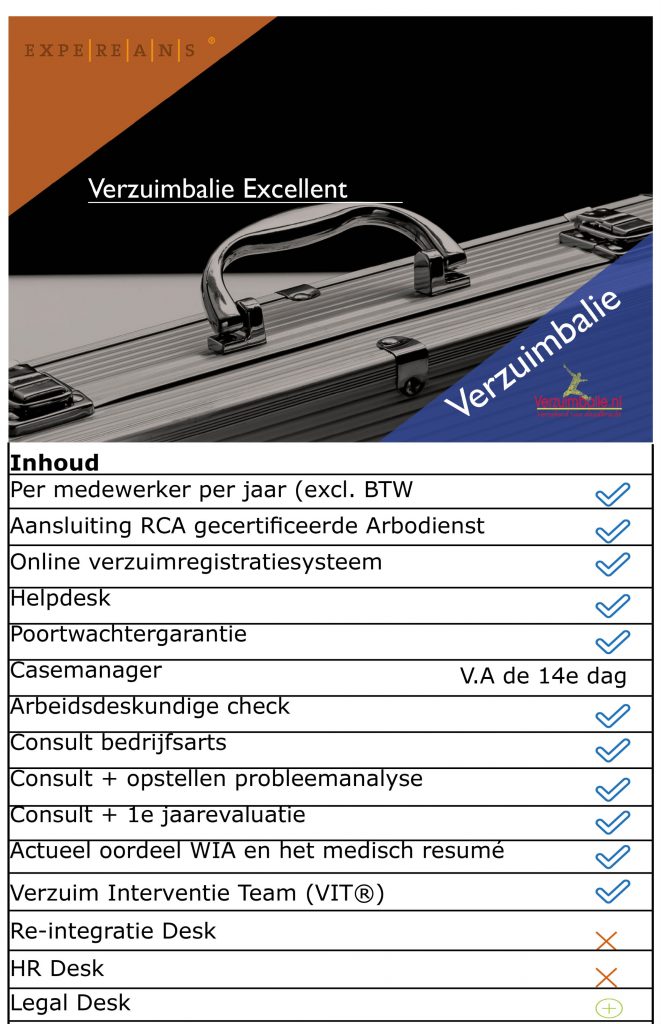 Papland 9B - 4206 CK Gorinchem - KVK 11060965 - 0183-699400 - info@expereans.nl